My family and I were given the DVD Warriors Of Honor from New Liberty Videos for review. New Liberty Videos offers christian DVDs changing lives now and for eternity. The DVD we reviewed, Warriors Of Honor is a documentary that guides the viewer through the causes and the major battles of the Civil War. This documentary shows you the lives of Robert E. Lee and Stonewall Jackson. The DVD is geared toward a general audience and the run time is approximately 80 minutes with three bonus segments.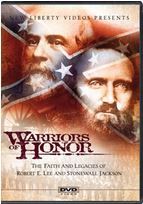 About Liberty Videos:
Brian Barkley has been in the motion picture industry for over 40 years. He worked on several television series before becoming a Christian. After he gave his life to the Lord, he became involved in producing Christian movies and still does today.
My Review:
I chose to receive Warriors Of Honor because my husband is such a Civil War buff. He loves learning about the Civil War and teaching our children about it as well. Another thing that really drew me to this DVD was Robert E. Lee and Stonewall Jackson. They were both confederates in the Civil War and since we are from Virginia my husband loves learning about them!
I watched this documentary with my husband before allowing our children to view it. We like to view movies to make sure they are appropriate content for our children. However, after watching the DVD I feel it would be alright for them to enjoy it. I chose not to show them the DVD right now and save it for a later date. We will be learning about the Civil War in history this coming year and I will let them view it then.
The video was well made. I loved the photographs and quotes that were added to the movie. And personally my husband and I both enjoy watching documentaries that tell about a persons faith and this done just that. It showed how Robert E. Lee and Stonewall Jackson's faith in the Lord played in their behavior in the war. How they treated the men around them and the decisions that made on and off the field. They were true Christian heroes of that time! Also, t
here were many things I learning from this documentary that I didn't know about both men.
Overall, both my husband I enjoyed watching this DVD.. and I'm sure in the near future our sons will enjoy it as well. It was so nice to sit down and watch a documentary that brought God into light for the viewers. Also, when pictures were shown of the battle field it wasn't a "blood bath" in the pictures.... it showed how lives were changed and you knew the tragedy that was endured but it was portrayed on the DVD in a good "clean" way.
New Liberty Videos offer many more DVDs. To see what other crew members reviewed just click on the banner below!